Port Antonio
Blue Lagoon
The Blue Lagoon is a place of incomparable beauty. The lagoon is always calm and you will be able to feel the separation of the cool fresh water floating on top of the warmer sea water. There is not much of a beach here to hang out at, but you can swim and jump into the water from a large almond tree on the other side of the lagoon. There is also a little treasure of a natural spring hidden within the trees if you can find the path.

Cost: Free
Boat/raft tours are available which take you around the San San area. The rafts can hold two people and the boats can carry several and are usually priced per person. The boats can offer to take you to Winnifred beach.
Cost: Maybe 5,000jmd raft and 3,000jmd per person for boat. The price may be more though.
Winnifred Beach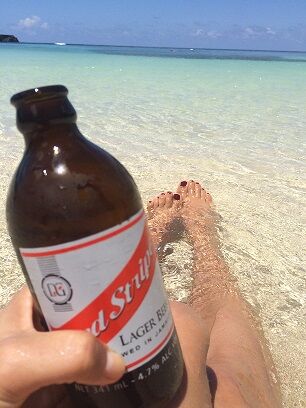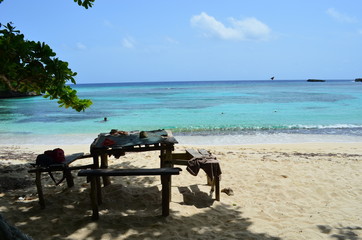 Winnifred Beach is our local beaches and one of our favorites on the entire island. To find the beach you have a choice of driving down a windy road or walking down a footpath (which starts at the large mango tree) made out of stones and tangled tree roots. When you get to the bottom you will find a picturesque beach with crystal clear turquoise and blue water and fine white sand. You can lounge around the beach all day and enjoy the warm Caribbean sea. There are bamboo stalls set up on the beach where you can buy food (soup, jerk chicken, fish...), drinks (coconut water, juice, rum, beer...) and souvenirs (wraps, jewelry, hats...). Saturdays and Sundays are usually busy with a good mix of locals and tourists and are quiet in the mornings and weekdays. You can come with your own drinks and food.
Cost: Free (but a donation is encouraged and it goes to keeping the beach clean and the road in good shape. There are very few free beaches in Jamaica and the community has fought hard to keep this one free to the public so donations are helpful for upkeep).
Waterfalls
Jamaica is known as "the land of wood and water" and it does not disappoint with the amount of waterfalls and rivers. There are two waterfalls set up as attractions close to Port Antonio. Reach Falls to the east and Somerset Falls to the west.
Click the link above for a video of Reach Falls created by a friend of ours a few years ago.
Reach Falls cost: 10usd for adult 5usd for child
Somerset Falls cost: 10usd (I think)
Frenchman's Cove Beach
Frenchman's Cove is idyllic. There is a beautiful river that flows into the sea and you can choose to either swim in the fresh water or sea water. There are people here that will wait on you and serve you food and drinks from the bar. You can rent beach chairs or bring your own.
Cost: 1,000jmd (or maybe 10usd)
Boston Beach
Boston is home of the Jerk festival and is well known for its jerk stalls. Boston beach is right next to these stalls and is a lively beach where you could get surf lessons.
Cost: 3usd (I think)
Scuba/snorkel/fishing
You can charter a boat with Lady G'diver for the day to go scuba diving, deep sea fishing and for snorkel and boat tours. Jamaica is great to experience from the water!